My Grand Piano A-Frames come in 2 varieties – the "Easy Fit" and "Deluxe Braked" version.
Overview: grand pianos in schools and other public venues are potentially hazardous, especially when being moved. In addition the brass castors normally fitted may well damage wooden floors.  Both these problems can be addressed, or at the very least reduced, by fitting an A-Frame.
The Easy Fit A-Frame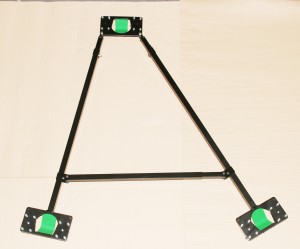 Easy fit because it is just that! The pianos original castors sit in recesses built into the frame and designed for the purpose. The only assembling required is to adjust the telescopic tubes to suit the specific instrument.

The frame rolls on six heavy-duty high quality Tente twin wheeled castors, two beneath each leg of the piano. The wheels have polypropylene cores and rubber treads and shouldn't mark wooden floors – but there are no absolute guarantees! Both wheels and castors may be replaced should the need arise.
The standard size should fit most grand pianos between about 5 foot and 7 foot 6 inches (150cm & 225cm). If your piano is smaller than 5 feet  you may need to shorten either or both of the long inner struts with a hacksaw in order to enable it to telescope small enough.
---
The Deluxe Braked A-Frame
---

This is the most rigid A-Frame you can buy.
With the Deluxe frame the original castors must be removed. Each leg is secured in a robust & positive adjustable clamp. Top quality Tente castors with rubber treads on the wheels are fitted as standard, and two of the "front" castors are fitted with a brake. The castors may be replaced at some time in the future, should the need arise. The clamps for the telescopic sections are tightened by large knobs rather than nuts and bolts.


The standard size should accommodate most grand pianos between about 5 foot and 7 foot 6 inches (150cm & 225cm). For larger instruments Concert A-Frames can be supplied.
The Concert Grand deluxe A-Frame is available with either two or three castors per leg. For maximum security with a full size concert grand, we recommend the three castor version.
Even when an A-Frame is fitted great care should be taken when moving a grand piano. One adult should be stationed at each leg, and if an irregularity in the floor prevents the piano from moving easily, it should be eased and lifted over the problem area. Simply pushing harder will damage the castors.
No responsibility can be accepted when castors or wheels are damaged by an irregular floor surface.
---
Grand Raiser
A great help when fitting A-Frames or grand piano legs! No. 301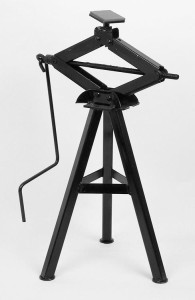 If you have any questions, wish to order, or check prices, please email martin@heckscher.co.uk or phone me on 01494 758713